Swim Teacher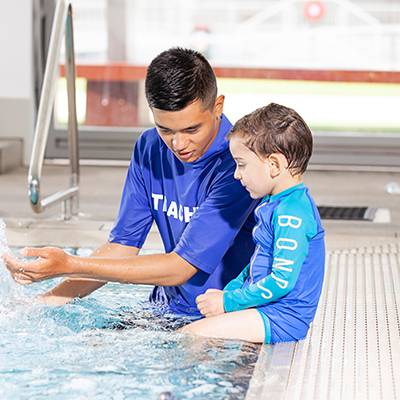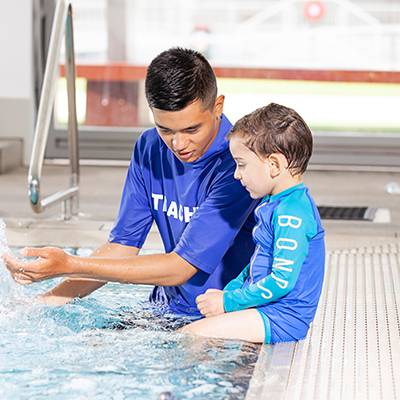 The Royal Life Saving Swim Teacher course provides candidates with essential competencies to teach swimming and water safety to school age persons. Accreditation is valid for three years.
The course is approximately 15 contact hours (theory and practical)' plus on the job teaching hours. Topics include:
How people learn
Being an effective teacher
Plan, deliver and review a lesson
Instructing water familiarisation, buoyancy and mobility skills
Towards efficient stroke development
Aquatic safety, survival, and rescue skills
Instructing water safety and survival skills
Principles of movement in water
Water familiarisation, buoyancy, mobility, and safety
Teaching safer diving skills
Course Prerequisites
Candidates are required to complete a series of online learning modules prior to commencing the face to face component. You are required to have access to a computer and the internet in order to access these online modules.
You are required to have a reasonable level of fitness and swimming ability to perform the required aquatic skills.
Please Note:
Royal Life Saving Society NSW is not a CRICOS provider; it is unable to provide national training to overseas students holding a student visa.
Assessments
To gain the Swim Teacher accreditation, the following assessment components must be satisfactorily completed:
On-line theory assessment (completed prior to attending a face to face practical workshop).
Practical demonstration of teaching skills, including the preparation of lesson plans.
Demonstrate competence in basic water rescues.
Cardiopulmonary resuscitation (CPR) assessment, to be completed on-course. For further information on CPR requirements please click here.
Practical on the job teaching hours in a learn to swim environment signed off by a workplace supervisor
Course Requirements
This interactive course is delivered in a blended format, it requires the completion of a self paced online knowledge component followed by a 1 day practical face to face workshop.
Outcomes
The Royal Life Saving Swim Teacher course contains units of competency which are nationally recognised from the SIS Sport, Fitness and Recreation Training package. Upon successful completion of all assessment requirements, candidates will be issued a Statement of Attainment for the following units:
SISCAQU008 Instruct water familiarisation, buoyancy and mobility skills
SISCAQU009 Instruct water safety and survival skills
SISCAQU010 Instruct swimming strokes
SISCAQU002 Perform basic water rescues
In addition, successful candidates will also attain:
HLTAID009 Provide cardiopulmonary resuscitation
Swim Teacher Licence
In addition to the successful completion of the online and face to face components of the course, candidates are required to complete on-the-job teaching hours in a range of teaching conditions in order to obtain a Swim Teacher Licence. This on-the-job assessment ensures the Swim Teacher is able to apply the skills learnt in the training course at their place of employment. The on-the-job component needs to be signed off by a workplace supervisor. More information on who can be a workplace supervisor is provided in the on the job workplace booklet.
COVID-19 Information:
In order to make sure we are conducting training as safely as possible, and to protect our learners and trainers, Royal Life Saving has implemented some changes to the way we facilitate our Face to Face workshops. We have:
Made hand hygiene facilities available at our training venues;
Increased cleaning frequencies and standards for general spaces and equipment;
Decreased group sizes;
Introduced physical distancing as per current Government restrictions;
and Mandated the completion of Infection Control learning modules for all staff and trainers.
Before attending a Face to face workshop, please consider your health and others'. Please do not attend your chosen course if you are feeling unwell or experiencing flu-like symptoms.
At your course you can expect:
To be asked to complete a Verbal Health Assessment, and Temperature check;
To be asked to wash/ sanitise your hands prior to entering the training space;
To be provided adequate personal space in order to maintain required physical distances from others;
To perform practical assessment tasks on yourself or on a manikin (not on others);
To be asked to excuse yourself from the training space if you declare yourself to be unwell, or begin displaying flu-like signs;
To be asked to wash/sanitise your hands before leaving the workshop.
These changes will help to keep everybody safe and they form part of our Terms and Conditions for participation. If you think you may have any difficulty complying with these changes, please contact your local Royal Life Saving office at your earliest convenience.
Introduction:
The Royal Life Saving Swim Teacher course provides candidates with skills and knowledge to effectively and safely teach swimming and water safety skills to school aged children.
This course will focus on setting yourself up for success when teaching swimming and water safety skills, preparing for lessons, instructing children effectively, as well as providing specific tips for teaching skills, correcting faults and looking for continuous improvement opportunities.
Learning Outcomes:
Program Benefits:
Content:
---
Upcoming Workshops
| | | | | | | |
| --- | --- | --- | --- | --- | --- | --- |
| Name | Date | Time | Location | Available Spaces | Cost | |
| Swim Teacher (Jul-Dec) | 11 December 2021 | 08:30 am - 03:30 pm | Toronto Swim Centre | 6 | $300.00 | |
| Swim Teacher | 11 December 2021 | 09:00 am - 05:00 pm | Royal Life Saving (Riverina Region), Wagga Wagga | 0 | $330.00 | |
| Swim Teacher | 11 December 2021 | 09:00 am - 05:00 pm | Splash Devonport Aquatic & Leisure Centre | 8 | $300.00 | |
| Swim Teacher | 15 December 2021 | 08:00 am - 03:00 pm | Little Fishes Swim School | 0 | $300.00 | |
| Swim Teacher | 18 December 2021 | 08:00 am - 04:00 pm | Birrong Leisure Centre | 0 | $300.00 | |
| Swim Teacher (Jul-Dec) | 18 December 2021 | 08:30 am - 03:30 pm | Maitland Aquatic Centre | 4 | $300.00 | |
| Swim Teacher (Jul-Dec) | 19 December 2021 | 08:30 am - 05:30 pm | Aqua Harmony | 6 | $300.00 | |
| Swim Teacher | 5 January 2022 | 09:00 am - 05:00 pm | Leeton Swimming Pool | 5 | $300.00 | |
| Swim Teacher | 16 January 2022 | 08:00 am - 04:00 pm | Whitlam Leisure Centre | 11 | $300.00 | |
| Swim Teacher (Jul-Dec) | 16 January 2022 | 08:30 am - 03:30 pm | Toronto Swim Centre | 7 | $300.00 | |
| Swim Teacher (Jul-Dec) | 16 January 2022 | 08:30 am - 05:30 pm | Aqua Harmony | 12 | $300.00 | |
| Swim Teacher | 22 January 2022 | 09:00 am - 05:00 pm | CentrePoint Sport & Leisure Centre, Blayney | 15 | $300.00 | |
| Swim Teacher | 23 January 2022 | 08:00 am - 04:00 pm | Ashfield Aquatic Centre | 9 | $300.00 | |
| Swim Teacher | 29 January 2022 | 08:00 am - 04:00 pm | Michael Wenden Aquatic Leisure Centre | 15 | $300.00 | |
| Swim Teacher (Jul-Dec) | 29 January 2022 | 08:30 am - 03:30 pm | Toronto Swim Centre | 12 | $300.00 | |
| Swim Teacher (Jul-Dec) | 30 January 2022 | 08:30 am - 03:30 pm | Lakeside Leisure Centre | 12 | $300.00 | |
| Swim Teacher | 5 February 2022 | 08:00 am - 04:00 pm | Auburn Ruth Everuss Aquatic Centre | 12 | $300.00 | |
| Swim Teacher (Jul-Dec) | 6 February 2022 | 08:30 am - 03:30 pm | Singleton Gym and Swim | 12 | $300.00 | |
| Swim Teacher (Jul-Dec) | 13 February 2022 | 08:30 am - 03:30 pm | Toronto Swim Centre | 12 | $300.00 | |
| Swim Teacher (Jul-Dec) | 13 February 2022 | 08:30 am - 05:30 pm | Aqua Harmony | 12 | $300.00 | |
| Swim Teacher | 19 February 2022 | 08:00 am - 04:00 pm | Whitlam Leisure Centre | 14 | $300.00 | |
| Swim Teacher (Jul-Dec) | 20 February 2022 | 08:30 am - 03:30 pm | Maitland Aquatic Centre | 10 | $300.00 | |
| Swim Teacher | 6 March 2022 | 08:00 am - 04:00 pm | Annette Kellerman Aquatic Centre | 15 | $300.00 | |
| Swim Teacher (Jul-Dec) | 6 March 2022 | 08:30 am - 03:30 pm | Toronto Swim Centre | 12 | $300.00 | |
| Swim Teacher (Jul-Dec) | 12 March 2022 | 08:30 am - 03:30 pm | Lakeside Leisure Centre | 13 | $300.00 | |
| Swim Teacher (Jul-Dec) | 13 March 2022 | 08:30 am - 05:30 pm | Aqua Harmony | 12 | $300.00 | |
| Swim Teacher | 19 March 2022 | 09:00 am - 05:00 pm | Manning Aquatic Centre, Bathurst | 16 | $300.00 | |
| Swim Teacher (Jul-Dec) | 20 March 2022 | 08:30 am - 03:30 pm | Balance Collective, Mayfield (Newcastle) | 10 | $300.00 | |
| Swim Teacher | 26 March 2022 | 08:00 am - 04:00 pm | Auburn Ruth Everuss Aquatic Centre | 14 | $300.00 | |
| Swim Teacher (Jul-Dec) | 3 April 2022 | 08:30 am - 03:30 pm | Maitland Aquatic Centre | 10 | $300.00 | |
| Swim Teacher (Jul-Dec) | 9 April 2022 | 08:30 am - 03:30 pm | Toronto Swim Centre | 12 | $300.00 | |
| Swim Teacher (Jul-Dec) | 24 April 2022 | 08:30 am - 05:30 pm | Aqua Harmony | 12 | $300.00 | |
| Swim Teacher (Jul-Dec) | 1 May 2022 | 08:30 am - 03:30 pm | Balance Collective, Mayfield (Newcastle) | 10 | $300.00 | |
| Swim Teacher (Jul-Dec) | 14 May 2022 | 08:30 am - 03:30 pm | Toronto Swim Centre | 12 | $300.00 | |
| Swim Teacher (Jul-Dec) | 22 May 2022 | 08:30 am - 05:30 pm | Aqua Harmony | 12 | $300.00 | |
| Swim Teacher (Jul-Dec) | 19 June 2022 | 08:30 am - 05:30 pm | Aqua Harmony | 12 | $300.00 | |